Hate
New York City
It's cold and it's damp
And all the people dress like monkeys
Let's leave
Chicago to the Eskimos
That town's a little but too rugged
For you and me, babe
Rollin' down the Imperial Highway
With a big nasty redhead at my side
Santa Anawinds blowin' hot from the north
And we was born to ride
Roll down the window, pull down the top
Crank up the Beach Boys, baby
Don't let the music stop
We're gonna ride it 'til we just can not ride it no more
From the SouthBay
to the Valley
From the West Side to the East Side
Everybody's very happy
'Cause the sun is shining all the time
Looks like another perfect day
I love L.A.
Look at that mountain
Look at those trees
Look at that bum over there, man
He's down on his knees
Look at these women
There ain't nothin' like 'em nowhere
Century Boulevard
Victory Boulevard
Santa Monica Boulevard
Sixth Street
We love L.A.
Those are the lyrics to Randy Newman's song "I Love. L.A.," the 80s hit that I noticed is played over the loudspeakers when the Los Angeles Dodgers win a game. Newman's song does a fine job at capturing L.A., and like his song about Cleveland, "Burn On," it shows love for the city despite also making fun of it at the same time, such as in the lines "Look at that mountain, look at those trees, look at that bum over there, man, he's down on his knees." Each street he mentions also offers beautiful sections in
nice neighborhoods and areas in run-down neighborhoods. L.A. does boast an amazing combination of natural beauty and city life. Actually, however, I didn't see too many bums other than on Skid Row which is where many of them live and very few change cups being waived at me compared to other cities I've seen like Atlanta and Indianapolis.
I arrived at Los Angeles International Airport at 11:50 AM Pacific time on March 20. The trip from LAX to Burbank was long because of heavy traffic, it took a couple of hours to get home, using some ways to avoid the jams, since I-405 was not moving much. I actually saw many areas of the city on the drive. I settled in that night and enjoyed one of the many fine meals prepared by my Aunt Kathy.
I spent most of the first day finishing up the teaching applications I started during my airplane ride. I wanted and needed to get these done, and I thought it would be fun to mail them from the Beverly Hills post office so they would be postmarked with the most famous zip code, 90210. I visited my cousin Silvie at 8-ball, which is a clothing and gift store she works at that focuses on the Rockabilly crowd. I browsed the store, which did have a few neat gifts, although the clothing didn't match my style.
Beverly Hills is a great place for people-watching. You can see some of the higher class crowd in Los Angeles here. It seems as though everyone drives a BMW, Mercedes, or Lexus. The streets are lined with palm trees and driving in on Sunset Boulevard is quite pleasant. I did visit a Pinkberry location, which is a new chain only in California and New York that carries a yogurt-like tasting frozen dessert. The green tea flavor is the best of their three.
Below: Pinkberry in Beverly Hills on Santa Monica Boulevard and me on Rodeo Dr. as well as a series of 2 shots of Silvie enjoying a cigarette at the Baja Fresh in the 90210, followed by a Beverly Hills neighborhood street.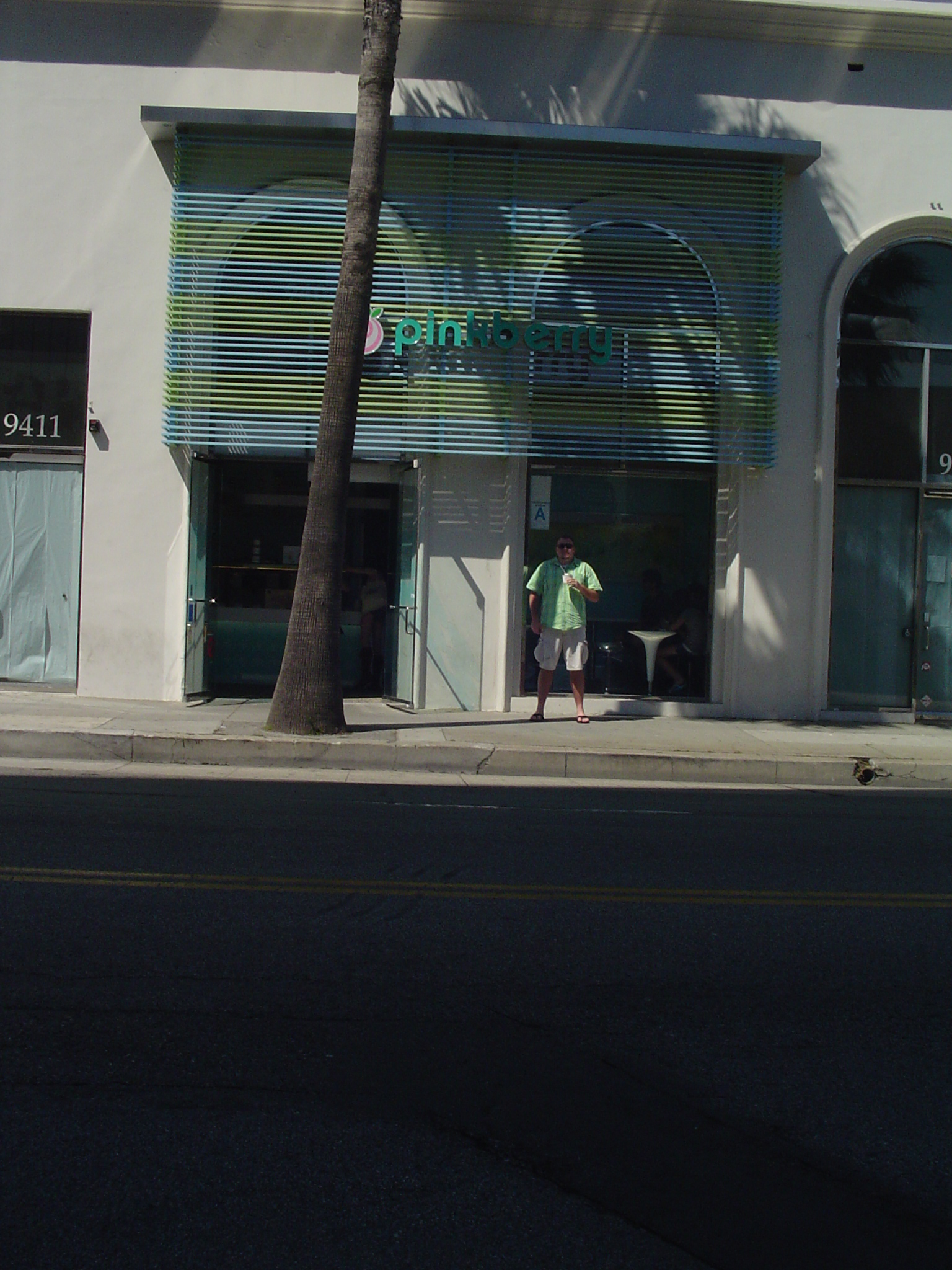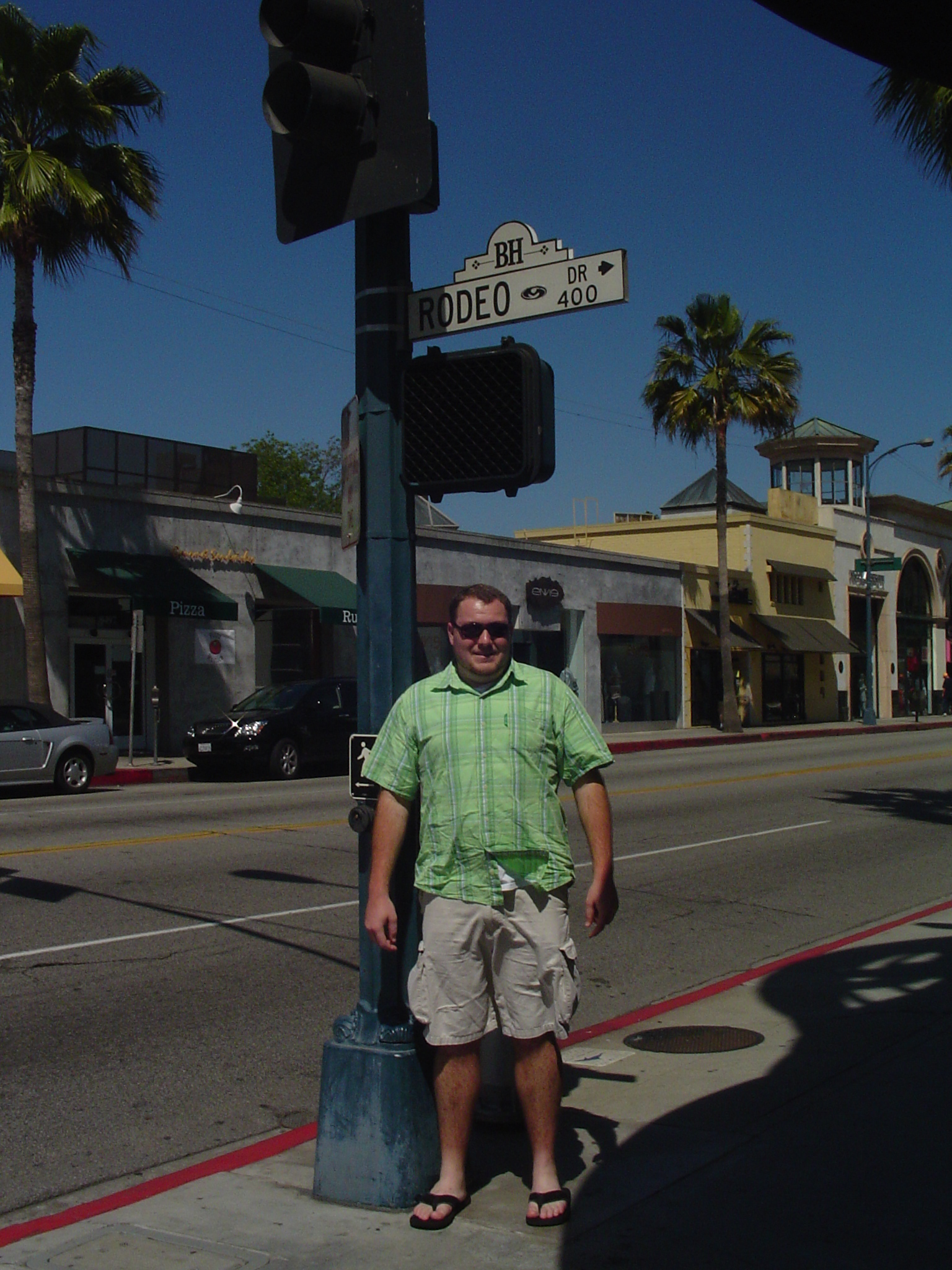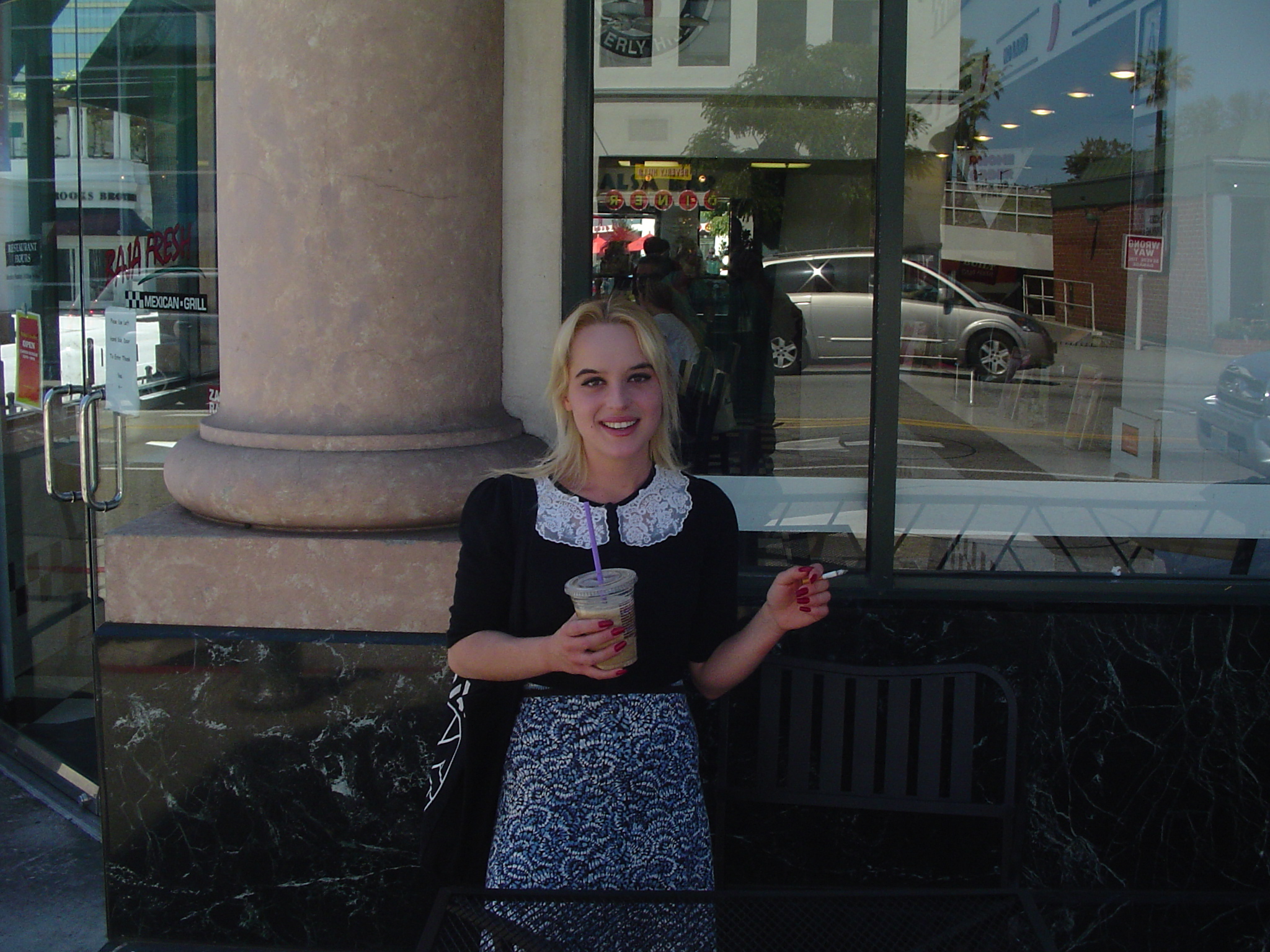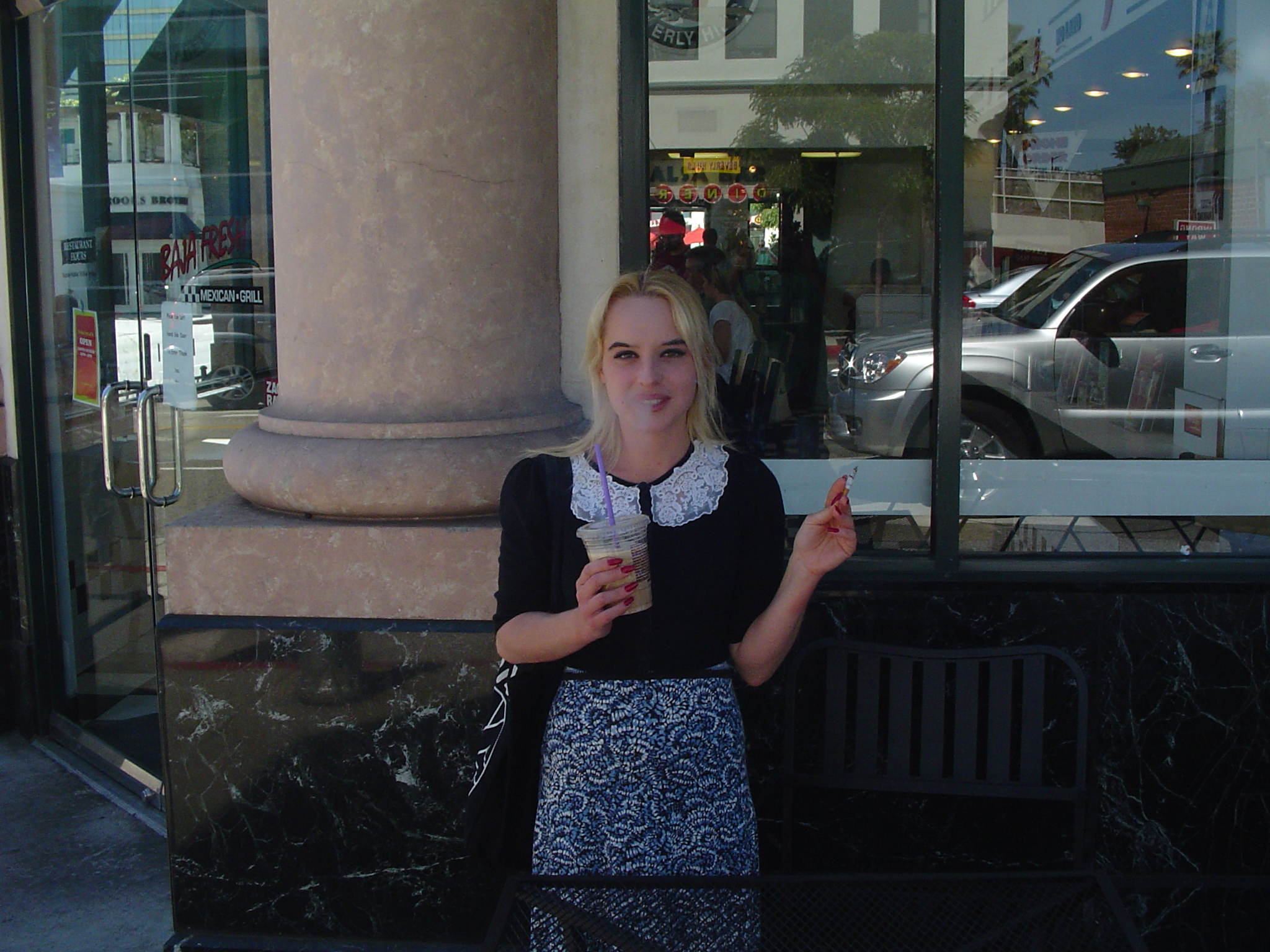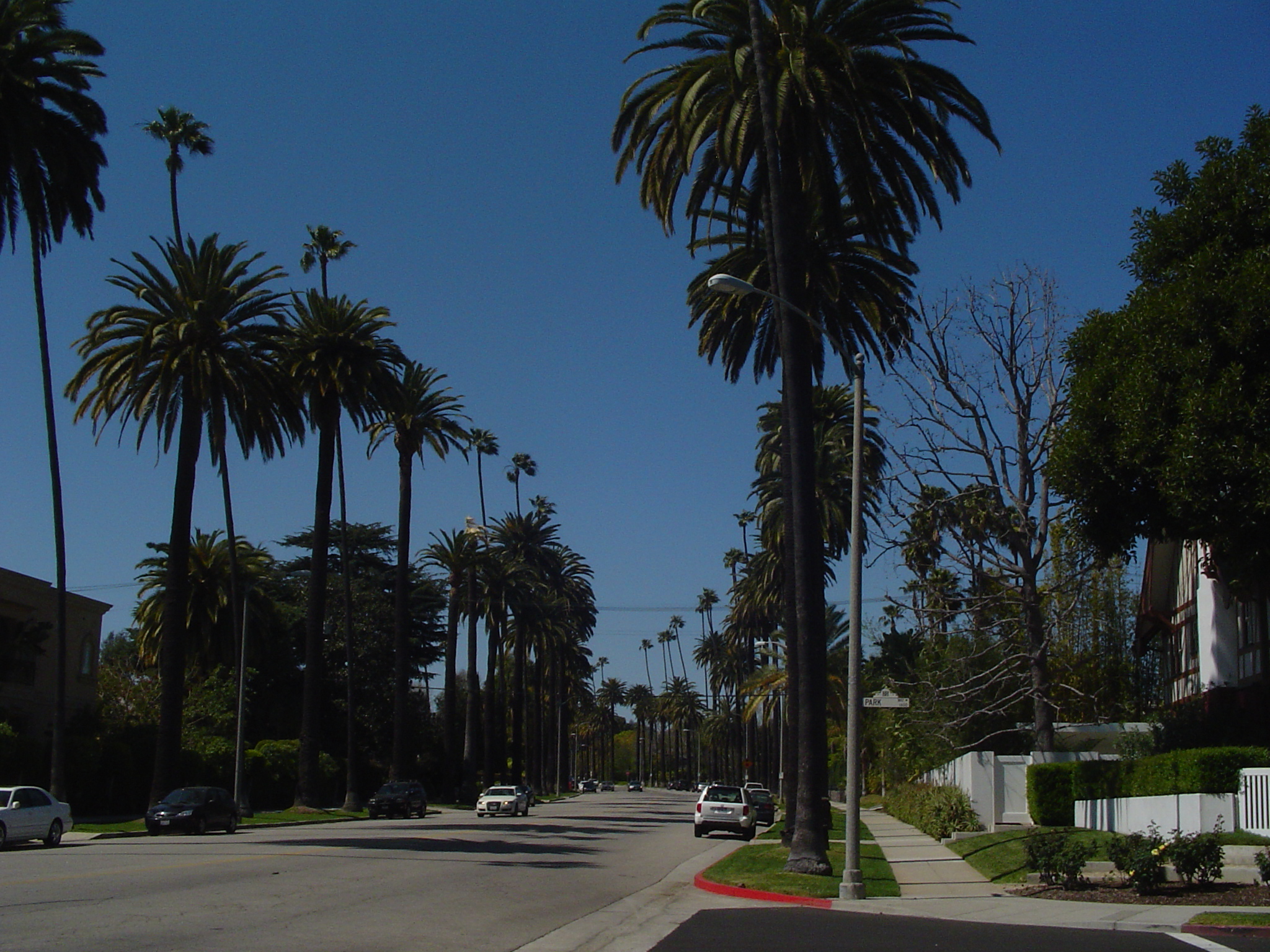 I worked a promotions job the next day, promoting Buzz! trivia and SingStar 90s karaoke game on Playstation 2 at a Toys 'R' Us in Lancaster. The promotion was average and I did visit the famed and always crowded In-N-Out Burger for lunch. Most people did not want to sing karaoke on a Saturday afternoon in a store. Some people did play the trivia game, however, and games of both kinds were purchased.
Easter Sunday was the hottest of the days, and on this day I started to tour many of the spots mentioned in "Surfin' U.S.A." Even on Easter Sunday, many of the freeways such as I-405 and US-101 were experiencing heavy traffic jams. It seemed
as though many were heading to the beach because it was a hot, beautiful, sunny day. Our first mission was to visit Hawthorne, the childhood home of the Beach Boys. There is now a monument on the site of their childhood home, where we visited and took some pictures. We went to Manhattan Beach, which is an amazing sight to see. It has a fun shopping and restaurant district with many surf shops to visit and amazing views of mountains. The beach has mountains on further down on both sides and the houses of Manhattan Beach are on a mountain that scales up from the beach. Driving up those roads offer some spectacular views, especially in nearby Palos Verdes, an extremely affluent area. We also visited Hermosa Beach and Redondo Beach, another spot mentioned in the song. Each beach offers different experiences, Hermosa being a smaller town with less commercial property, and Redondo not having as much of a trendy look and vibe. For dinner, we first were going to eat at a restaurant called Cozymel. Although we appreciated the pun on the Mexican Caribbean island
Cozumel, we felt the place had too much of chain vibe. When one is in Southern California, there are quite a few authentic Mexican options around, so Mexican food should be had at a good place. We ended up going to another nearby chain called The Daily Grill. I had a nice prix fixe meal there, and it was nice to check out a Southern California chain. Many of you know how I like to do that.
Below: Site of the Beach Boys home in Hawthorne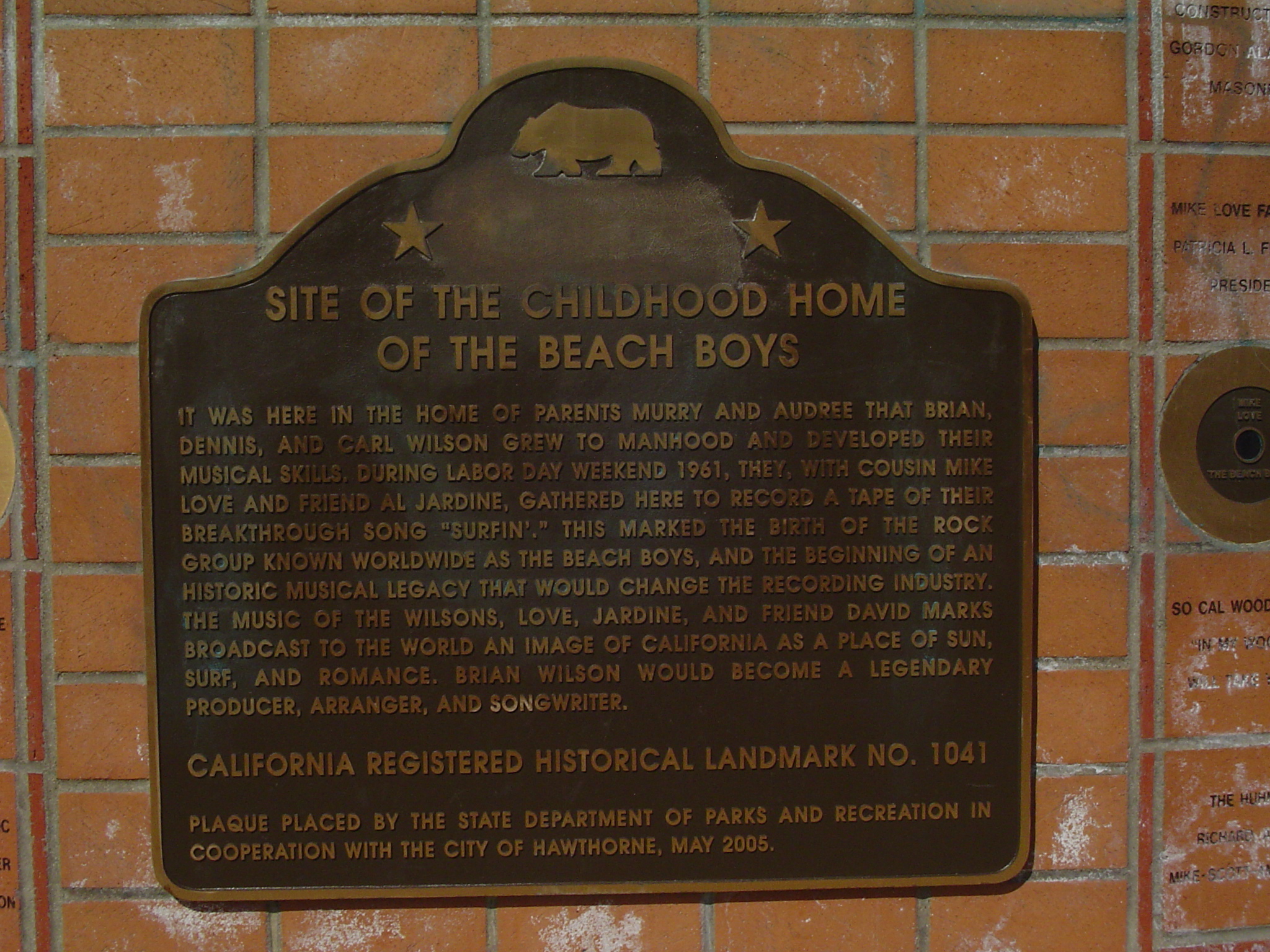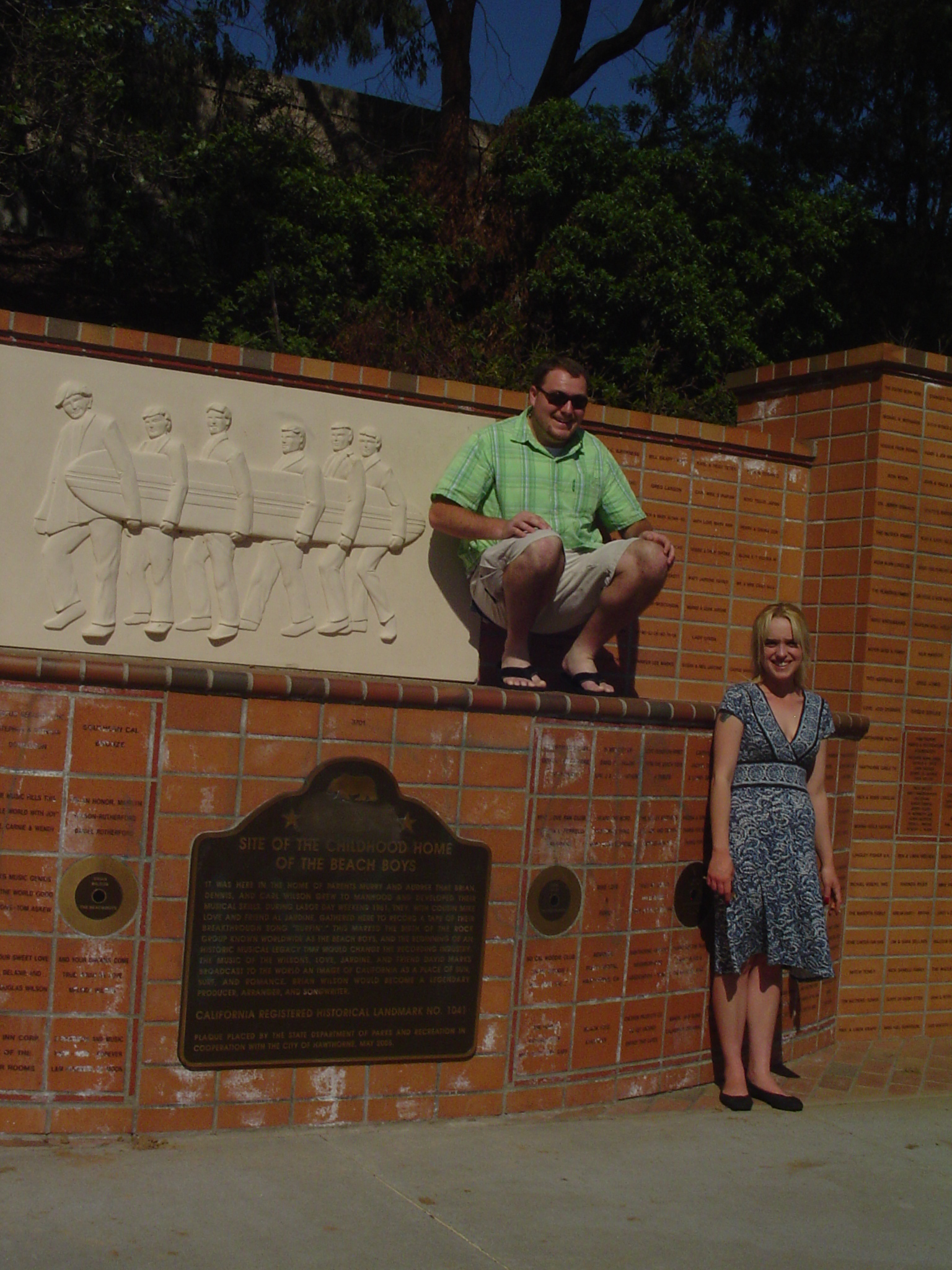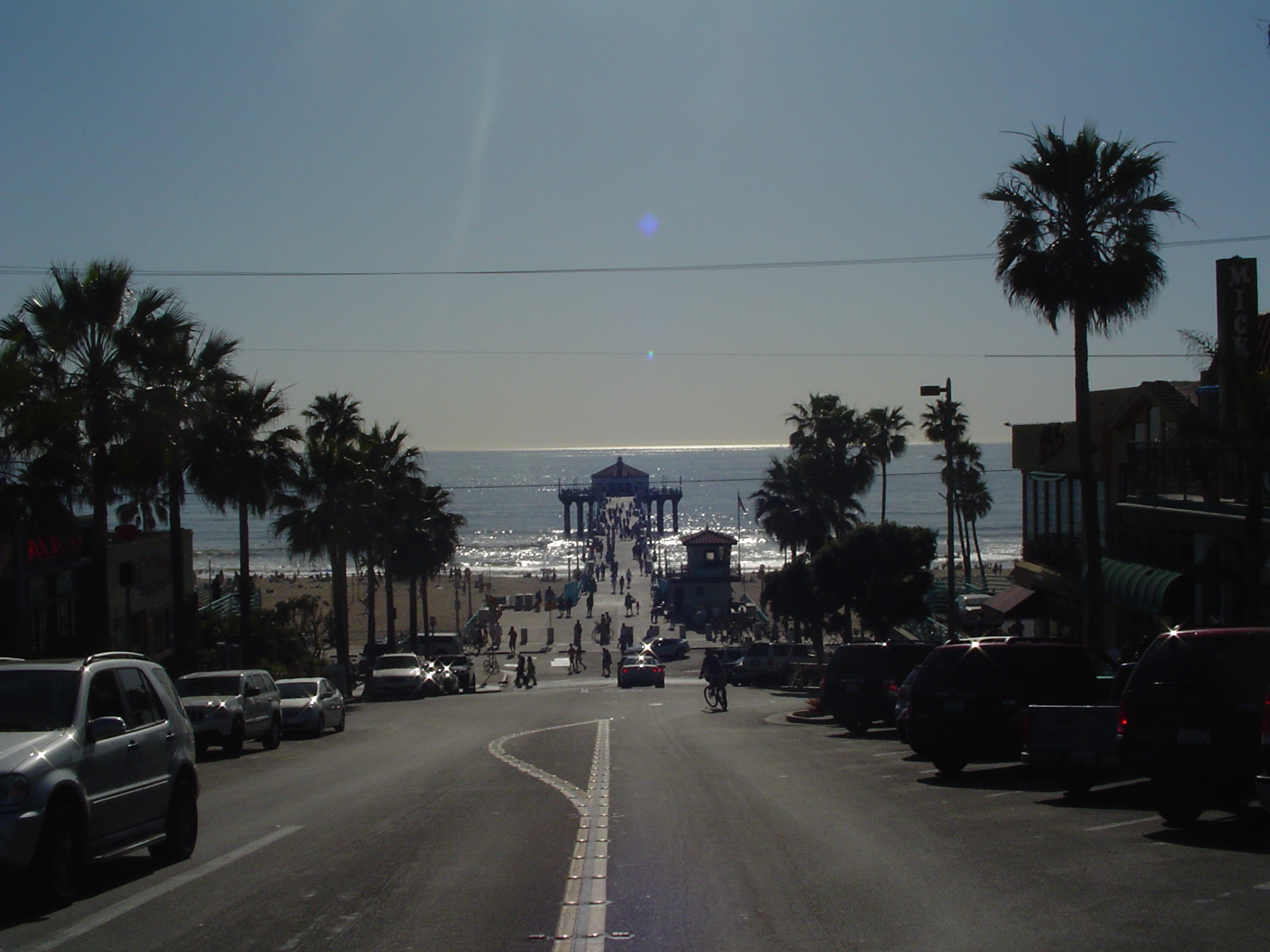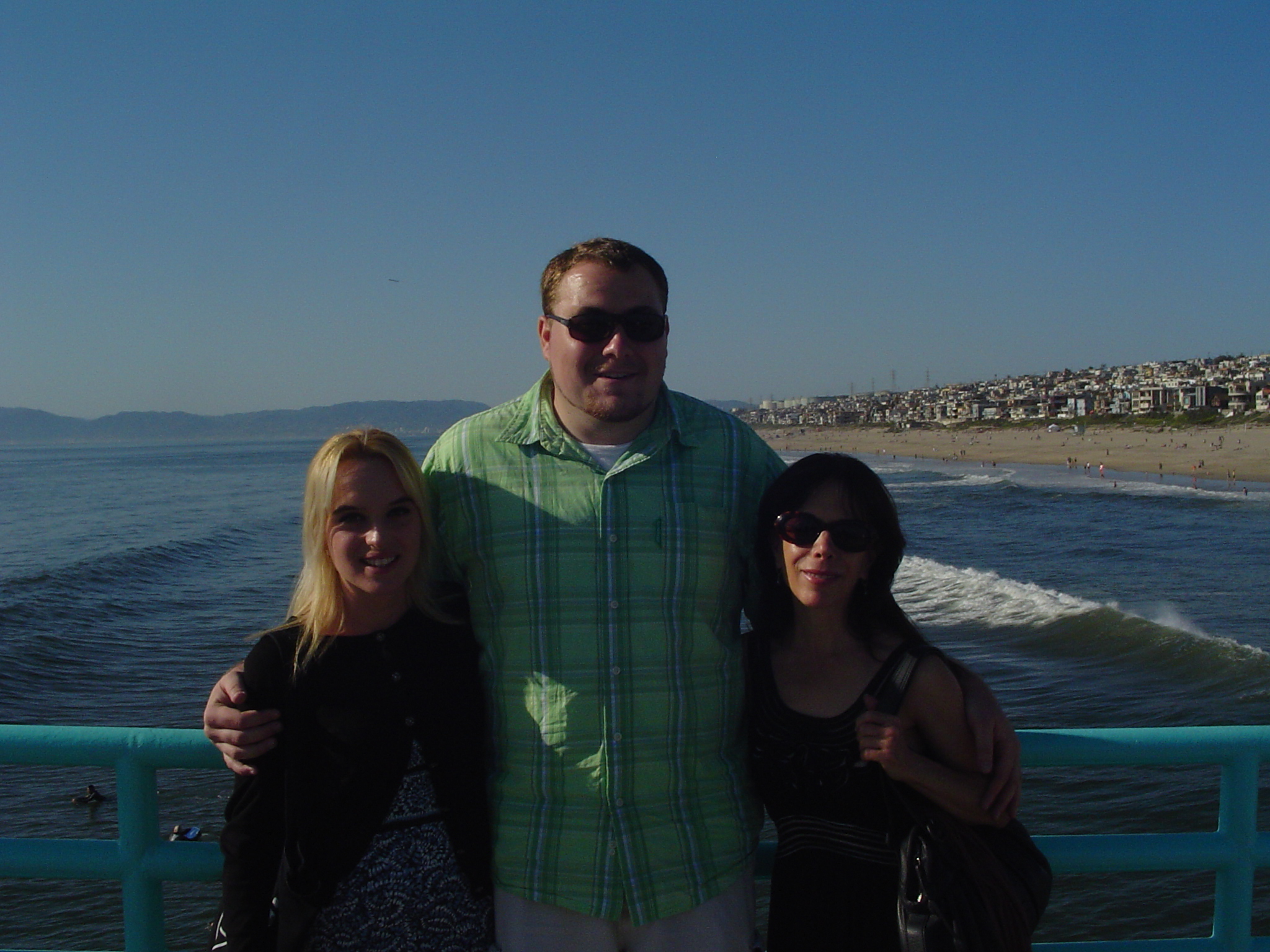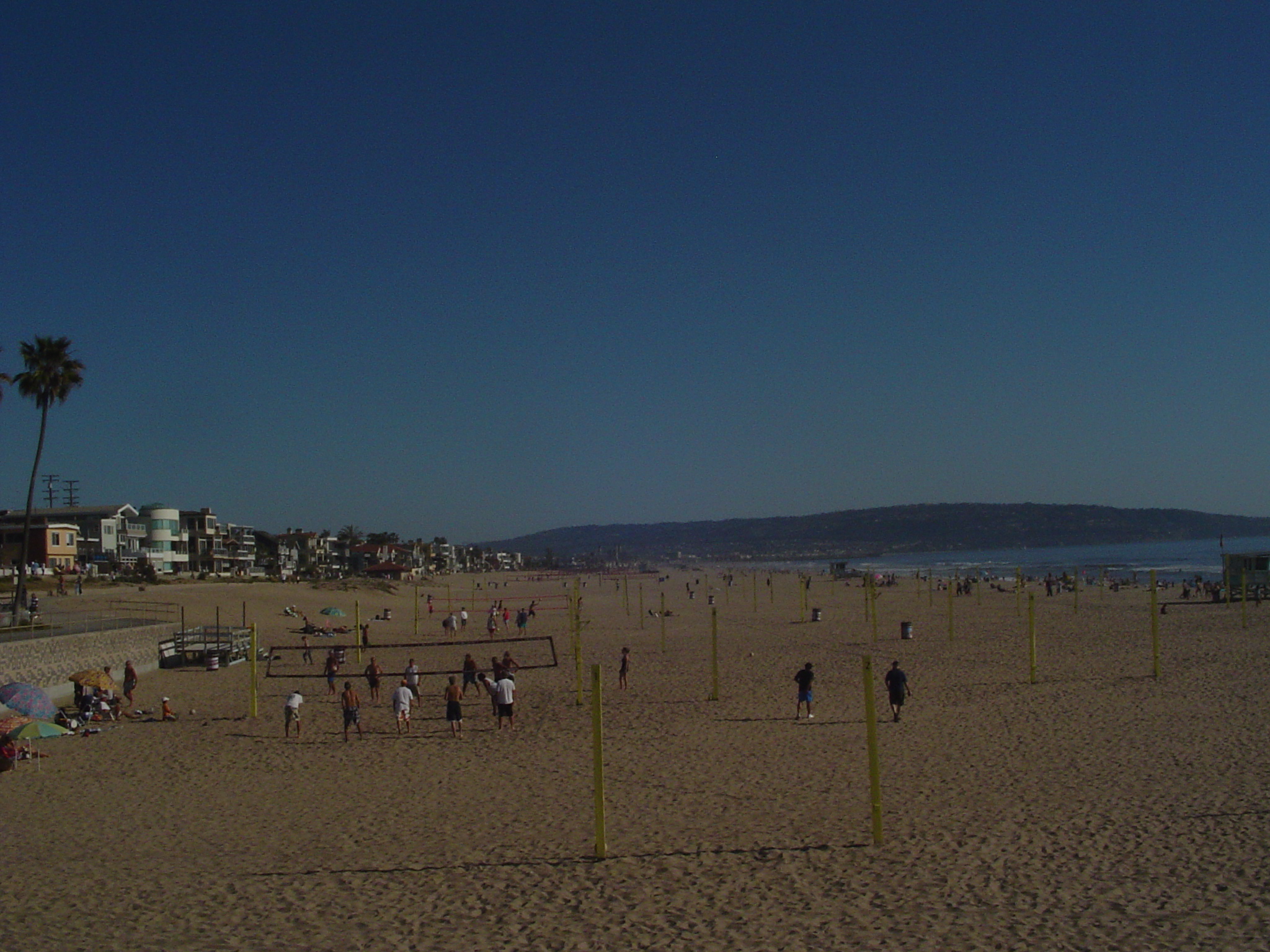 Above: Manhattan Beach
Below: Redondo Beach, Palos
Verdes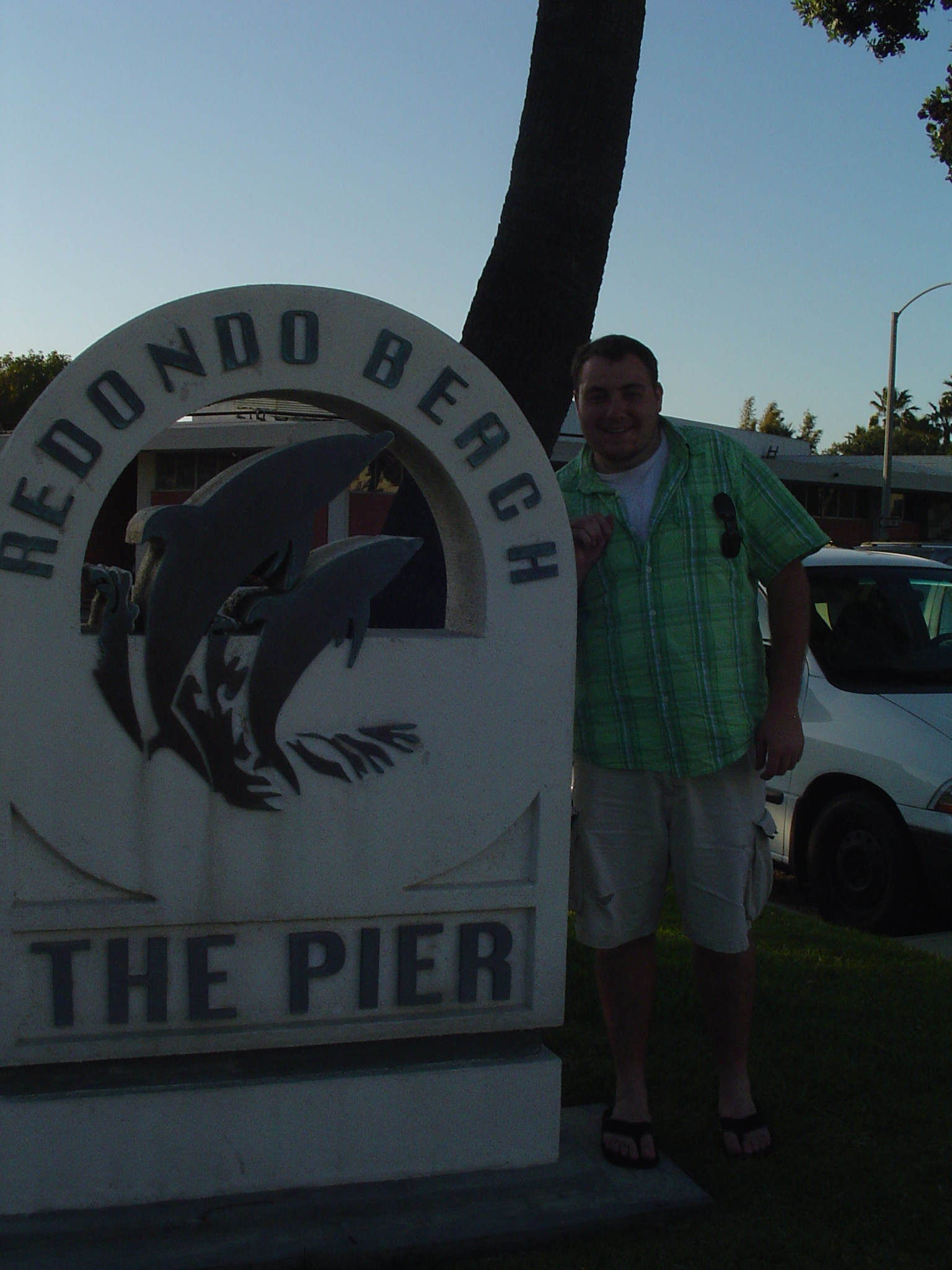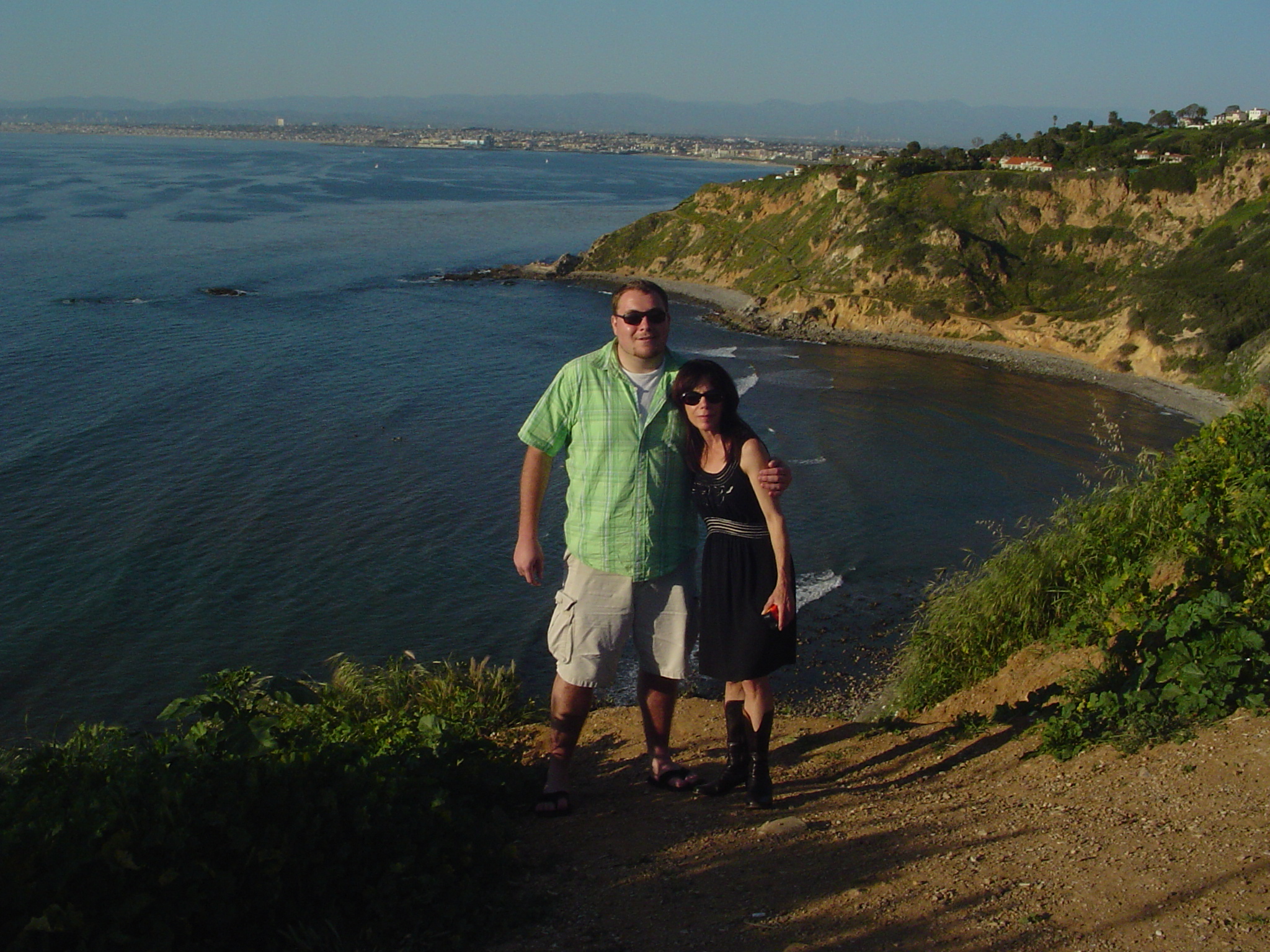 I also visited the Griffith Park Observatory, which offers views of some of the different Los Angeles County skylines as well as the Hollywood sign. Later that day, my first experiences in downtown L.A. occured. I visited Chinatown, which I was not that impressed with, and then the Fashion District, which was quite fun. Many designers sell clothing and other items in the fashion district and a I discovered an area known as the Santee Alley. The Santee Alley was a marketplace of Latino venders, mostly selling clothing, shoes, and accessories, although there were some other stores selling toys and electronics. The Alley is unlike many other places one might find similar as it was extremely low-pressure buying. It seems as though most vendors do not solicit buying or try to sell you more. The going-rate for designer sunglass copies is $5, or $20 for the "higher quality" fakes. The fakes are very similar and include appropriate logos, with some of the popular faked brands being Gucci, Prada, Versace, Armani, Ray-Ban, and Lacoste. One could also
buy a suit for $40-50 and also fake designer shoes, such as a pair of Air Jordan shoes for $30. Shopping in the fashion district was extremely enjoyable.
Venice Beach is one of the most famous districts of Los Angeles because of "muscle beach" moniker and the interesting people that try to make money there. They have basketball and paddleball courts as well as city-provided weight lifting equipment. Venice is a place to find musicians, such as one who plays guitar and rollerblades at the same time, a person with headphones asking you to listen to his music and buy his CD, or a man with walking around with boa constrictors. Unfortunately, it was cloudy at the beach on this day, which does happen sometimes despite it being sunny inland as if often is. I ate at a good BBQ restaurant I saw on the Food Network. I also visited Santa Monica, which has a carnival feel to it with a couple of rides and stands offering carnival-type food and attractions. It was also home to what might be the world's most expensive Taco Bell.
Below: Crunchwrap Supreme in
Kent: $1.99 Crunchwrap Supreme on Santa Monica Pier: $4.75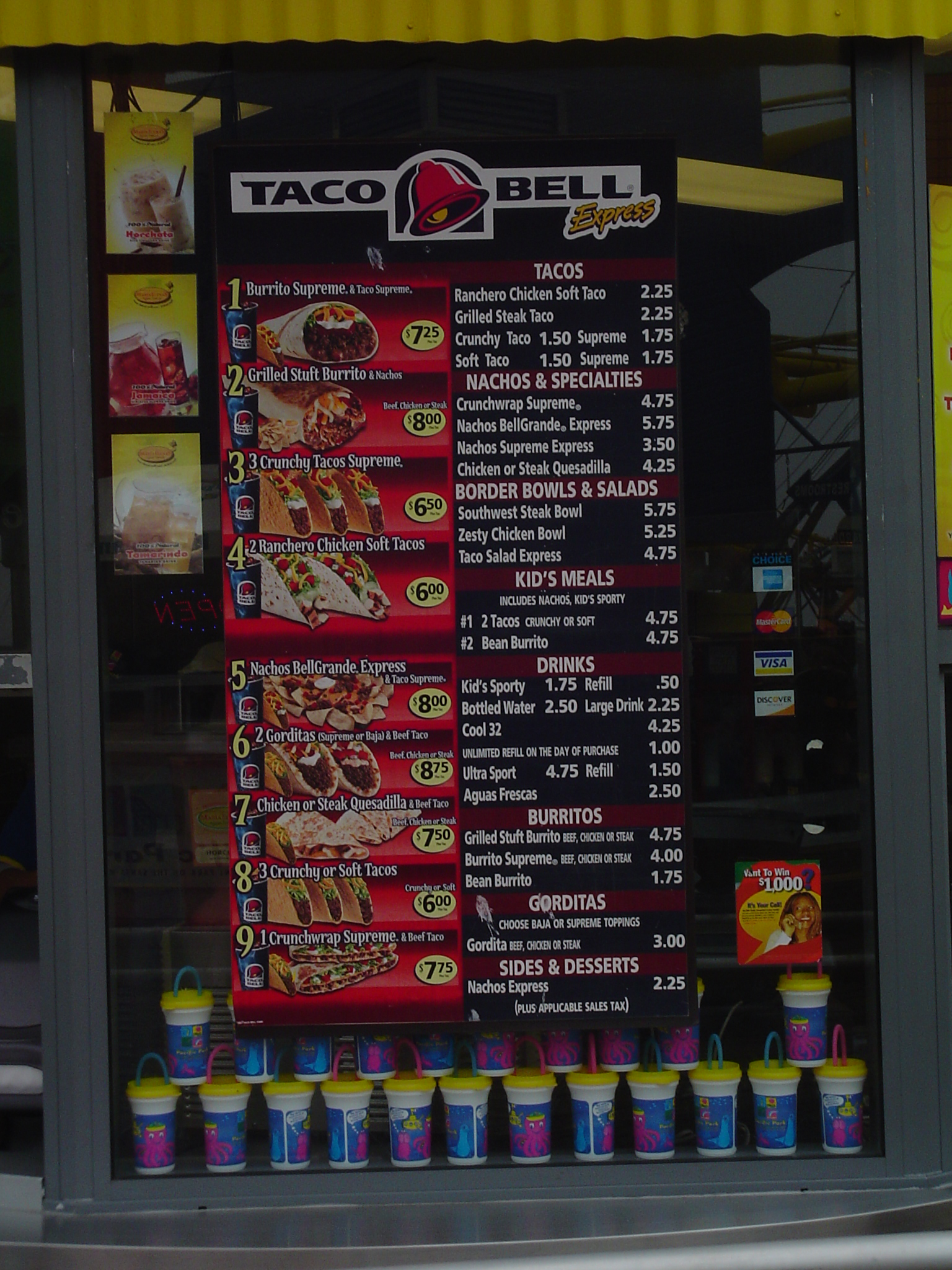 Before I went to L.A., I got tickets for The Price Is Right. I attended a taping of the show with Silvie. We arrived at CBS studios in Hollywood at 8:00 AM. We then entered a queue to receive priority numbers. They distribute tickets in excess of the studio capacity, so you have to show up early to get a number written on your ticket. We then were told to come back at 12:30 PM for the 4:00 PM taping of the show. Waiting in the queue feels like a cross between being at Cedar Point and a concentration camp. You are assigned a number and you wait in line to be interviewed by a producer in groups of 12. Before you get into the studio, any portable electronic devices are taken away such as cameras, phones, and MP3 players. The producer asks you where you are from and "what you do." Every member of the studio audience is eligible to become a contestant. The contestants, chosen by what seemed to be two girls aged around 18 and 12, chose 9 out of the 325 people that would be chosen. I was not chosen, but the girl next to Silvie and I was chosen, so there should be a good shot of us on television. The episode airs April 24. Drew Carey was hilarious between the commercial breaks. He essentially did a stand-up comedy routine between every commercial break. It was quite fun and entertaining to attend the show, although waiting in the lines was somewhat grueling.
Below: The famous yellow tag, and my number. The use of nicknames on the tags is prohibited.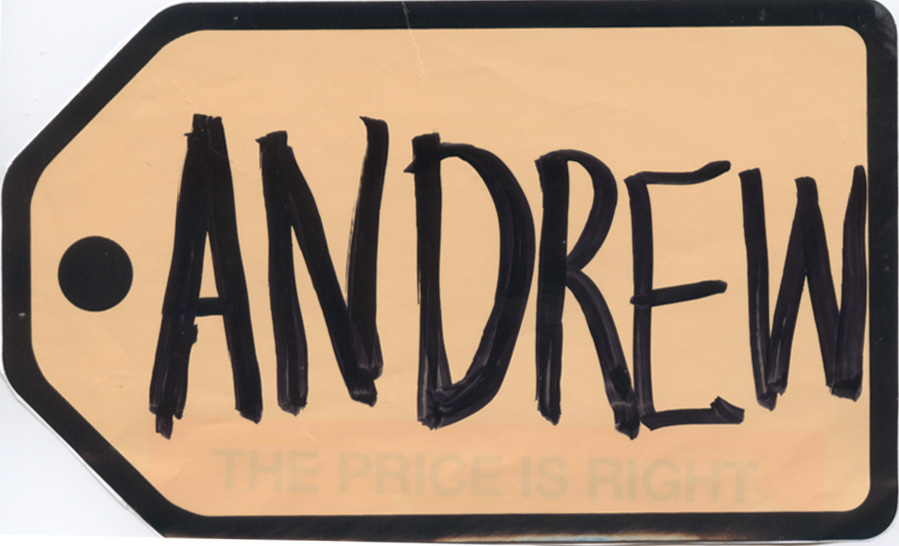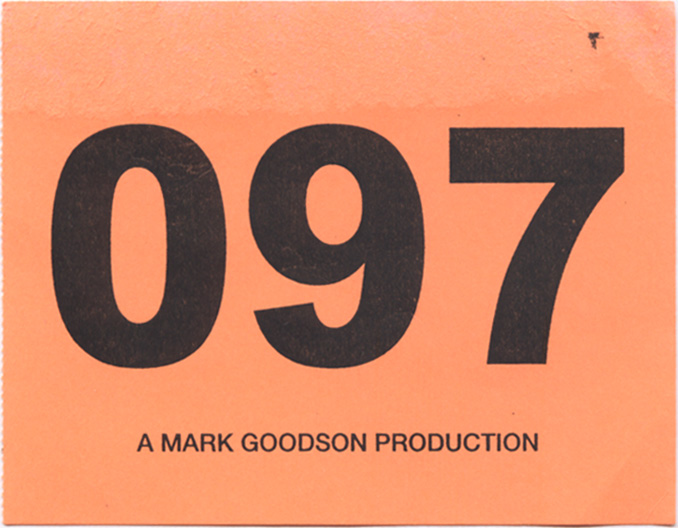 I walked around Burbank and Toluca Lake and eventually ended up in Universal City, which I suppose is a long walk that I walked quickly. I hiked up the hill to Universal Studios and walked along their Citywalk, which is a promenade of shops and restaurants. Later, we went to a good Mexican restaurant for dinner called Sol y Luna. It's a Mexican hot spot in L.A. and was quite good.
Below: Gas prices at a Hollywood
gas station. It was more expensive than other places. Sometimes
places don't care if people get gas there and focus on car repair, but it's
still interesting.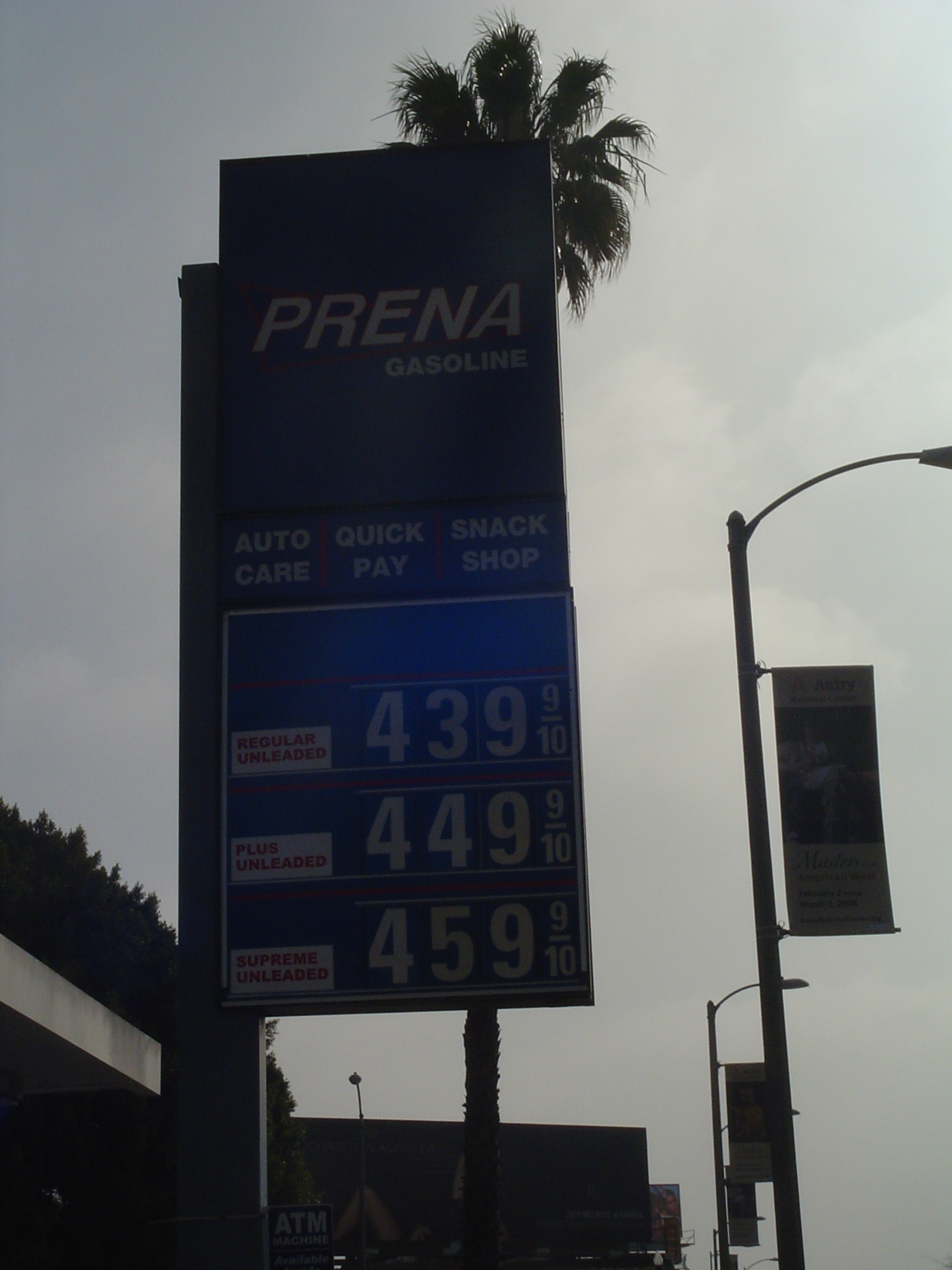 On Friday, drove down the Pacific Coastal Highway to San Diego, which mostly consists of CA-1 and it is necessary to be on I-5 at one point. I visited many other spots mentioned in Surfin' U.S.A. that are in San Diego County and Orange County. Huntington Beach in Orange County did not impress me as a great beach. Laguna Beach is beautiful and the city has an upscale look to it. Driving up the mountains where people in Laguna Beach live offers some great views. San Clemente was different; it was more laid back, with a few restaurants with great ocean views and a beautiful planting of palm trees. I visited two more Surfin' U.S.A. stops, Del Mar and La Jolla. La Jolla is a region of San Diego that is large, undefined, and a bit confusing to navigate. I ended up finding a
beach in La Jolla and actually took a swim in the cold 60 degree waters. It just felt like a refreshing thing to do. At night, I went to an exhibition game at Petco Park with the San Diego Padres hosting the Los Angeles
Angels of Anaheim. When initially entering the gate of the stadium and walking around, the park had an interesting feel of not being in a ballpark. I had wondered if perhaps I had wandered out. No fence was
in sight and it just seems as though one is amongst the buildings and streets of the city.
On Saturday, I strolled around Hollywood with Silvie, visiting some famous stores and gift shops. We went to Roscoe's House of Chicken 'n Waffles and I enjoyed an amazing dish of chicken 'n waffles. I was not sure what to expect at Roscoe's. We went to the Hollywood location and had to wait 20 minutes for a table at lunchtime, despite the place being large. Even after we finished our meal, there was still a crowd of people waiting outside. The clientele at Roscoe's was diverse. The rent-a-cop was acting as the host by taking names for tables! My plate consisted of a fried chicken breast with a waffle on the side. I compiled most of my bites by adding butter and syrup to the waffle, placing a piece of chicken on top of the waffle, and then adding hot sauce to it. It was a delicious combination.
Later that night, Aunt Kathy and I saw the legendary Ray Davies in concert at The Wiltern. He played a great show with playing some newer songs and many of his older hits. He was the songwriter and lead singer for The Kinks. He played "Lola, All Day and All of the Night, Where Have All the Good Times Gone, Come Dancing,
Low Budget, Tired of Waiting, Set Me Free, Sunny Afternoon and many others. His performance was great and he got the crowd involved often. I am very glad I got a chance to see Davies.

I visited the Los Angeles Dodgers game at Dodger Stadium at Chávez Ravine. Dodger Stadium is a basic stadium. The pastel colors give it a light, fun feel. It is basically symmetrical, making the stadium fairly uninteresting, but the views from the stadium are very nice as it is fairly elevated. One interesting thing was that my top deck ticket did not allow me to visit any other parts of the stadium. I was unable to gain access to any other part of the stadium to see, which was rather disappointing. I enjoyed the stadium as it was cool to be in a park with a classic feel instead of the new batch of parks that many teams have that are all designed by the same company.
Below: Dodger Stadium, and
downtown L.A. from Dodger Stadium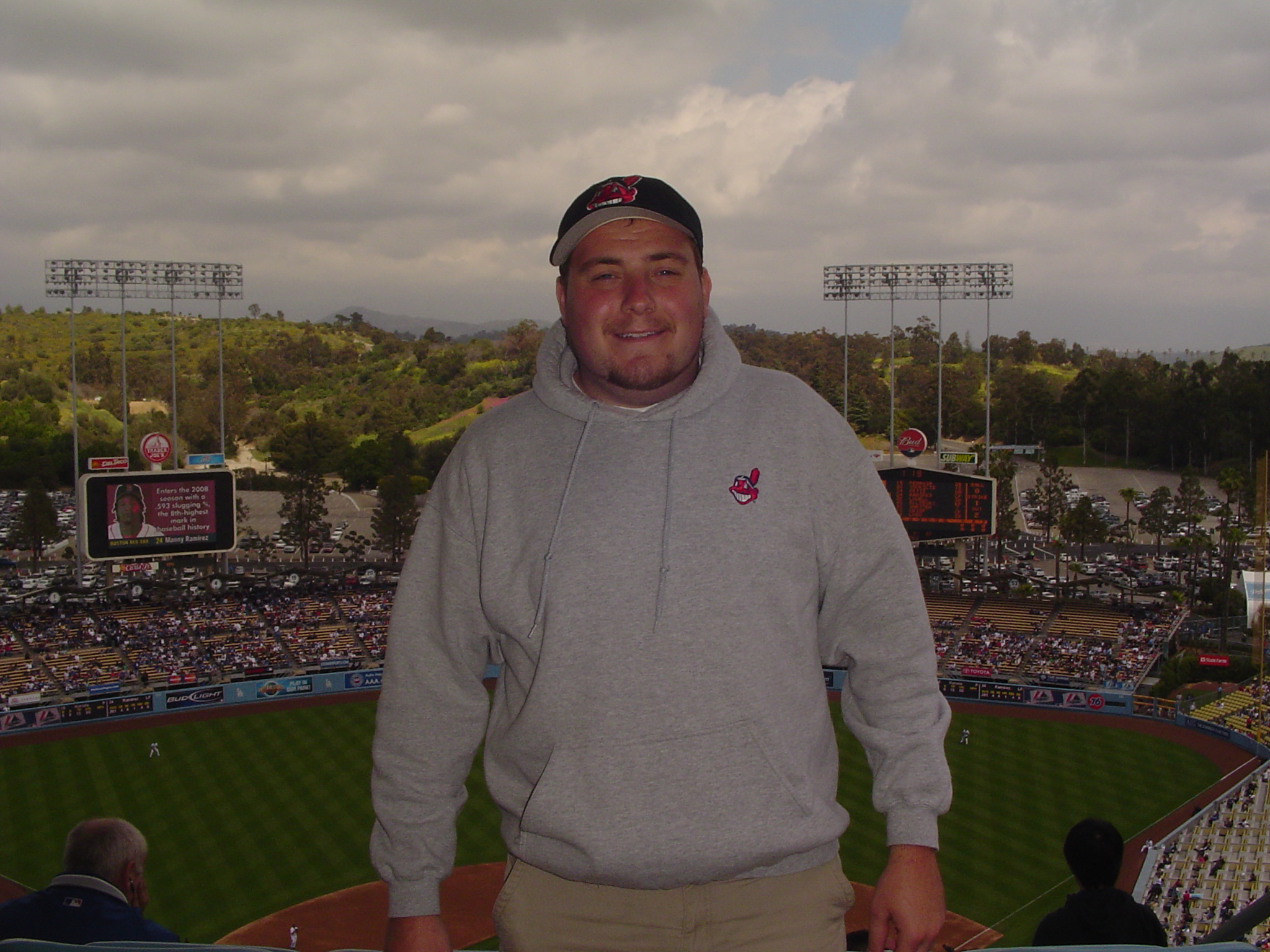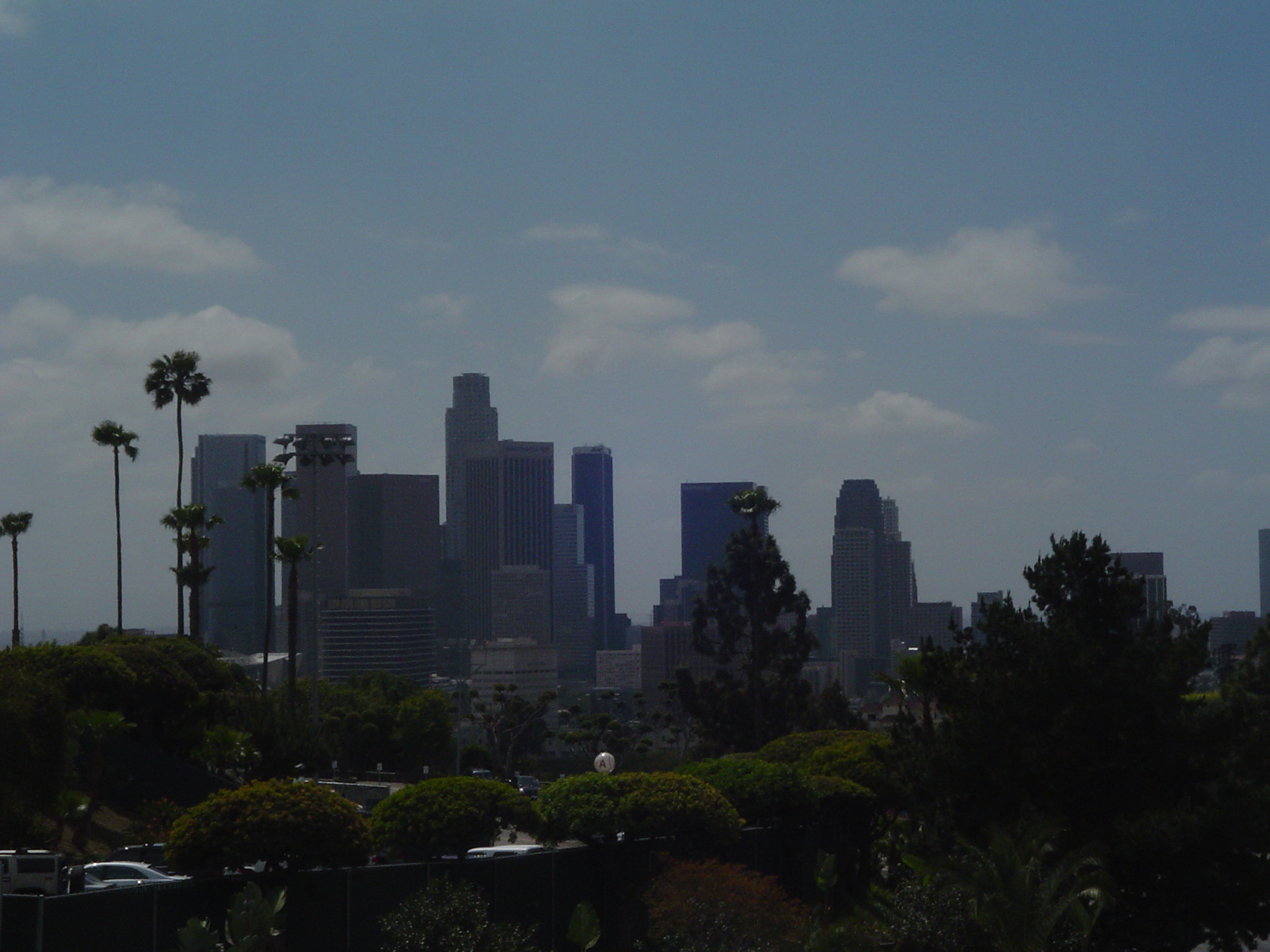 My last day was fun because Aunt Kathy and I checked out some more neighborhoods of L.A. that are closer to downtown. We visited Echo Park and Los Feliz. We went to a Coffee Bean and Tea Leaf shop to an amazing "Original Ice Blended," which is a precursor to the Frappucino at Starbucks. They are excellent, and while at the Los Feliz location we saw a local celebrity named Angelyne, who is known for driving a pink Corvette.
Like Randy Newman denotes in his song, L.A. is not perfect, but it sure is quite fun. There is quite a bit to do there, especially since almost everything there is a tourist attraction because everything is famous. A lot of famous restaurants, landmarks, streets, and things like the L.A. River. I just watched the Alvin and the Chipmunks movie and saw a bunch of things that I saw like a record store that I went into. Many things you see you've never seen before, although you feel like you have. I lucked out and it was sunny every day, as it not always is in the spring. It's a lot of fun in LaLa land, and it probably helps having a nice place to say and two knowledgeable guides.