According to the Chicago Tribune's feature on Christianity in China, "Christian churches, most of them underground, now have roughly 70 million members, as many as the [Communist] party itself." Today the Chinese church is among the fastest-growing in the world, and it is safe to call this an outgrowth of Hudson Taylor's pioneer missions work spanning the latter half of the 19th century.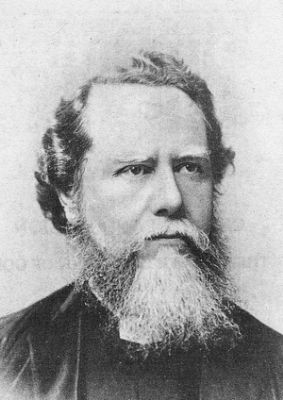 Though his methods were brilliant and biblical, it was Taylor's character that sustained his work and led to fruitfulness during continual "conflicts without, fears within." At the heart of his maturity was his "spiritual secret." Far from the esoteric enigmas of Gnosticism, his secret is found plainly in Scripture:
"Now on the last day, the great day of the feast, Jesus stood and cried out, saying, "If anyone is thirsty, let him come to Me and drink. He who believes in Me, as the Scripture said, 'From his innermost being will flow rivers of living water.'" But this He spoke of the Spirit, whom those who believed in Him were to receive; for the Spirit was not yet given, because Jesus was not yet glorified." (John 7:37-39)
In total surrender to God, he found only one place to meet his needs. His letters describe his response to this passage:
"No matter how intricate my path, how difficult my service; no matter how sad my bereavement, how far away my loved ones; no matter how helpless I am, how deep are my soul-yearnings—Jesus can all, all, and more than meet. He not only promises me rest. . . . He not only promises me drink to alleviate my thirst. No, better than that! 'He who trusts me (who believeth on me, takes me at my word) out of him shall flow…'"
The overflow of Taylor's life has far outlived him as he sought fulfillment in Christ alone. But how did he experience fullness in Christ when his life was one of such difficult circumstances? His study of a Greek verb tense further revealed the secret:
"'Come unto me and drink.' Not, come and take a hasty draught; not, come and slightly alleviate, or for a short time remove one's thirst. No! 'drink' or 'be drinking' constantly, habitually….One coming, one drinking may refresh and comfort: but we are to be ever coming, ever drinking."
Total surrender means total reliance on God. Like Paul, Taylor found the secret of contentment by entering God's rest:
"How little I believed the rest and peace of heart I now enjoy were possible down here! It is heaven begun below, is it not? . . . Compared with this union with Christ, heaven or earth are unimportant accidents. . . . He is our power for service and fruit-bearing, and his bosom is our resting placing now and forever."
His joy in Christ was so all-consuming he lived Paul's words: "momentary, light affliction is producing for us an eternal weight of glory far beyond all comparison, while we look not at the things which are seen, but at the things which are not seen; for the things which are seen are temporal, but the things which are not seen are eternal" (2 Corinthians 4:17, 18). During terrible trials he wrote of "the joy of knowing the living of God, of seeing the living God, of resting on the living God."
Hope was indeed the bridge from Taylor's faith in God to his labor of love in China. He knew with Christ carrying the yoke alongside him, his sacrifices were worthwhile and bearable. He believed God would provide in every way because of His promises and demonstration of faithfulness. And he looked forward to an eternity where Chinese believers would praise the Lamb with him.
Hudson Taylor presents a formidable example of radical dependence on God. Though I'm light-years behind him in spiritual maturity, I still want to learn the secret of entering God's rest by continually satisfying all need in Christ. From there the rest takes care of itself, as Taylor illustrated: "If you are ever drinking at the Fountain with what will your life be running over?—Jesus, Jesus, Jesus!"
Osnos, Evan. "Jesus in China." The Chicago Tribune, June 22, 2008. .